---
EXAMPLES IN THE ART OF COMPLAINING
---
This letter is pretty self-explanatory. We all know what Rice Krispies are! I was pretty upset that they would publish a chart like the one described in this letter!
---
Director of Product Advertising
KELLOGG'S
P.O. Box CAMB Battle Creek MI 49016-1986 August 5th, 1993
To whom in may concern;
I am disgusted with the sleazy chart on the side of your new RICE KRISPIES TREATS sample box (Carton No. K-1395S.) You imply, by showing only the top 1/3 of the chart, that your cereal contains about 1/3 less grams of sugar than "other" brands. This implication is made by a careful and planned, I'm sure heavy colorization of the bars in the chart, and small black numerals WHICH START AT SEVEN!!!
Come on, be real: Charts start at ZERO. There is only a relatively insignificant 5% to 8% difference between your cereal and the two you choose to compare it to. Added to that, you compare it to two ridiculously sweet cereals. NOTHING justifies the claim made above the chart, that this difference in sweetness allows us to treat our families every day! This is dishonest, deceptive advertising and you should be totally ashamed of yourselves.
Why not do an experiment: Put someone in a room with a K-1395S box and a bowl of milk and after they have breakfast, ask them how much less grams of sugar they think are in your cereal versus others mentioned on the box. I bet most people will say "a third less" because that's what the chart shows at a quick glance. That proves it's dishonest. Or, did you already DO that experiment and are you HAPPY with the results?
Thank you in advance for your attention. The favor of a reply would be appreciated. Regular Rice Krispies are one of my absolute favorite cereals. It saddens me to see such deceptive advertising.
Sincerely,
Russell Hoffman
---
Here are GIF images of the offending side of the box, and the response from Kellogg's: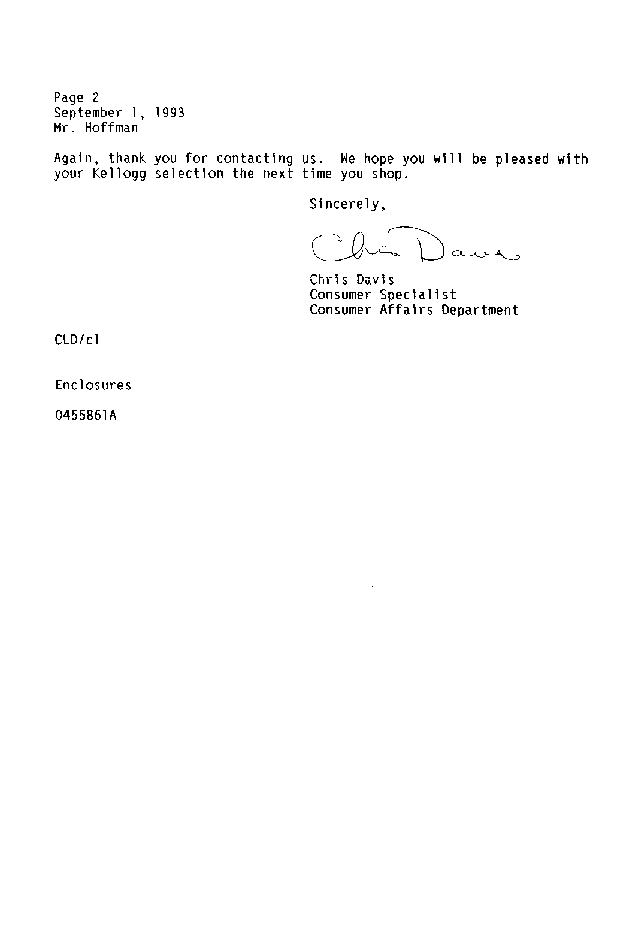 ---
"Complaining is like a fine whine. It is never useful if it is left corked up."--Russell D. Hoffman
---
From EXAMPLES IN THE ART OF COMPLAINING by Russell D. Hoffman
---

Table of Contents


The Animated Software Company
http://www.animatedsoftware.com


rhoffman@animatedsoftware.com
Last modified February 5th, 1998.
Webwiz: Russell D. Hoffman
Copyright (c) Russell D. Hoffman