---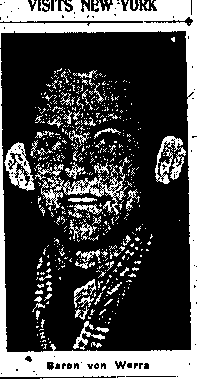 The incredible Oberleutnant Franz Von Werra
Click here to go to the Von Werra Home Page.
---
Barron Von Werra Begins Tour of "Sights" After Arrival in New York City -- January 27, 1941
---
From the Ogdensburg Journal, January 27th, 1941
---
Leaving behind hm a trail of publicity which began with his capture here, Baron Franz von Werra set out today to see the sights in New York City.
The Nazi pilot told metropolitan reporters that he like the country "because these is no barbed wire here" but talked more guardedly of his exploits on the advice of German consul officials in New York.
Meanwhile, Ogdensburg officials breathed a sigh of relief after a hectic weekend which brought publicity from all sections of this country and Canada to the city. News reports and broadcasts carried the news of his capture to thousands of readers.
Still the main topic of conversation on Ogdensburg streets today was the German's capture here Friday night. The crossing of the swift St. Lawrence River in a small boat propelled by his hands was being debated still this afternoon by local residents.
The Baron left Ogdensburg a 7:45 Saturday night after bidding goodbye to newsmen at the New York Central station. he was accompanied to the train by his attorney, James Davies.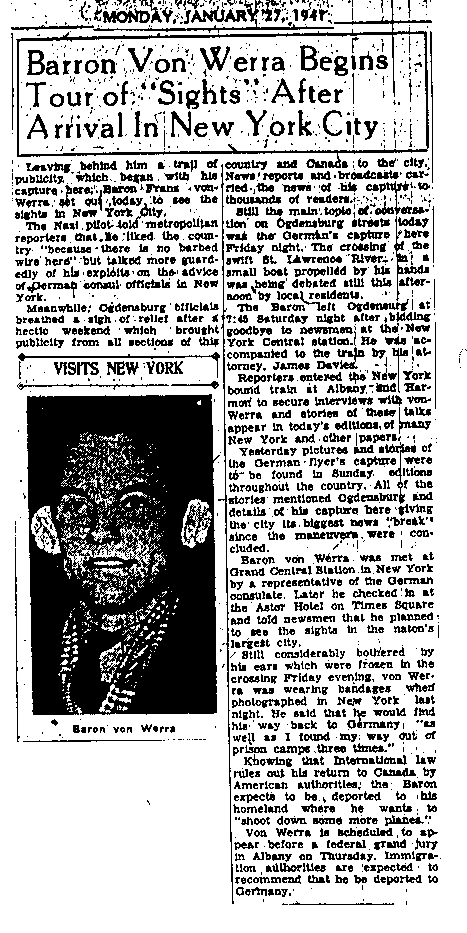 Reporters entered the New York bound train at Albany and Harmon to secure interviews with von Werra and stories of these talks appear in today's editions, of many New York and other papers.
Yesterday pictures and stories of the German flyer's capture were to be found in Sunday editions throughtout the country. All of the stories mentioned Ogdensburg and details of his capture here giving the city its biggest news "break" since the maneuvers were concluded.
Baron von Werra was met at Grand Central Station in New York by a representative of the German consulate. Later he checked in at the Astor Hotel on Times Square and told newsmen that he planned to see the sights in the nation's largest city.
Still considerable bothered by his ears which were frozen i the crossing Friday evening, von Werra was wearing bandages when photographed in New York last night. He said that he would find his way back to Germany "as well as I found my way out of prison camps three times."
Knowing that International law rules out his return to Canada by American authorities, the Baron expects to be deported to his homeland where he wants to "shoot down some more planes."
Von Werra is scheduled to appear before a federal grand jury in Albany on Thursday. Immigration authorities are expected to recommend that he be deported to Germany.
--Ogdensburg Journal, Monday, January 27, 1941
---

Table of Contents


The Animated Software Company
http://www.animatedsoftware.com


rhoffman@animatedsoftware.com
First placed online September 15th, 1997.
Last modified March 14th, 2000.
Webwiz: Russell D. Hoffman
Copyright (c) Russell D. Hoffman