Date: Sun, 30 Apr 2006 04:33:37 -42000

To:

From: Russell 'Ace' Hoffman <rhoffman@animatedsoftware.com>

Subject:

Cc:

Bcc:

X-Attachments:

In-Reply-To:

References:


From: Oscar Shirani <obshirani@yahoo.com>
Subject: Fwd: Shirani letter to NRC about Chernobyl
To: mwh@nrc.gov, rlo@nrc.gov ...snip... dsb3@nrc.gov, alk@nrc.gov

Dear corrupt Nuclear Regulatory Commission (NRC) Management;

No wonder that NRC's own survey in 2002 shows more than 50% of the NRC staff revealed during the survey that they are afraid of losing their job by raising nuclear safety concern (or in another word become WHISTLE BLOWER like myself).

These pictures are sent to you, the Nuclear Regulatory Commission (NRC) management staff who more represent the nuclear utilities and protecting the nuclear power industry instead of the public safety. These pictures from Chernobyl are sent to you to wake you up from the bed with the utilities and find out the consequence of your negligence and its impact on public safety. I pray that we don't repeat the Chernobyl in this country or anywhere else.

See these pictures for yourselves and consider that these Innocent kids to be your own kids. How could you live with your conscience (if any) to side with the utility mafias like Exelon and cover up their falsification of my nuclear audits and nuclear safety concerns that gave you in my dozens of reports/documents when I blew the whistle?

Of-course, I cannot generalize to call all the engineers at NRC as potential criminals like its management. There are also innocent and honest engineers (like Dr. Ross Landsman who just retired in May 2005) existing at the NRC who should not be blamed for the corruption of the higher management existing at the NRC.

Look how much Dr. Landsman tried from January 2001 till end of his career at NRC to alert NRC about my dry cask issues, but he was blatantly ignored. He wrote to his management on January 17, 2001 (attached files) to summarize my audit findings about the dry cask storage containers and notified what happened to the lead auditor (me) two days after I was removed from Exelon Nuclear Division. But he was ignored by the NRC corrupt management who just try to protect its own stake in nuclear and save this rusted nuclear industry. NRC is just like the Chicago Police Chiefs during the Al Capon who were in bed with Mafias. Exelon is another Mafia except in Nuclear Industry who fully feeds its sleepy regulators.

Worse potential criminal agency than the NRC is its own management at the Office of Inspector General (OIG) at Washington, DC who blatantly and with no shame talked to me twice for two days and one separate day in Washington, DC at the presence of my witnesses from safety Advocate Groups. OIG, despite acknowledging that the purpose of meeting with me was not to investigate the dry cask issues, but still summarized his report and further hid the NRC's negligence and covered up the dry cask storage issues. OIG issued a report a year later and denied all my dry cask storage issues and ignored talking about the design and welding issues and flaws.

OIG report covered all the garbage stories and non-relevant issues and how NRC was so wonderful in its audits of dry cask storage, but did not say anything about the design and welding issues and its falsification that was the major part of my argument about the cask structural integrity.

OIG blatantly lied in its report that "Shirani notified NRC in November 2001 one month prior to his termination at Exelon finance department". Why OIG hid the Dr. Landsman Letter (attached) which was written 10 months prior, in January 2001 while I was still employed at Exelon? Why didn't NRC alert Exelon that we are watching what you will be doing with Shirani when they read the attached letter from its own agent, Dr. Ross Landsman? Dr. Landsman told his management in his report on January 2001. Why didn't NRC do anything to Exelon not to fire me before I was fired 10 months prior? Why OIG lied that NRC found out about Shirani in November 2001? These are the crooks at NRC and OIG that think they are smart and people are stupid. I know why, because they don't have any respect for public and its safety. Wait until I take all you for criminal prosecution charges to the United States Congressional Hearing. Wait to see how the same people that you think are stupid will watch you on the TV cameras around the nation/world and spit on your face.

The laws of this country have to change that its regulators of NRC be independent from the power industry. What else do you expect from the George Bush Administration's choice of regulators who is willing to massacre its own people and the world?

OIG shamelessly admitted that NRC staff does not have to follow the 10CFR50 Appendix B, which is the Quality Assurance Criteria for Nuclear Power Plants and Fuel Reprocessing Plants. This is disrespect to public that NRC and its management wrote this code, but admit that they don't have to follow it. This is the code that NRC put in place to show the confidence to public that they are safe. NRC should do anything to enforce and implement this code among others that my audits cited.

These are the codes that Exelon committed to in its Updated Final Safety Analysis Report (UFSAR) and licensing applications for nuclear plants.

NIRS, UCS, and Public Citizen Groups were my witnesses when OIG staff met me for investigation of nuclear safety concerns and admitted that NRC staff does not have to follow or implement the 10CFR50 Appendix B. OIG staff said this is the code written for utilities to follow and not for NRC. What a joke from these jokers? Then I explained that Exelon willfully violated all the provisions of these codes in the design, fabrication, special processes and welding of the nuclear components, procurement, corrective action, root cause, etc.

I wish that I had the e-mail address of your NRC staff to distribute your shameful records to let them know who they are working for. NRC's management and its top officials are coming from the same nuclear submarines after retirement and kept their friendship and ties with the officers of utilities just like Oliver Kingsley of Exelon and others to ensure whatever it takes they have to maintain this nuclear industry at any price. That's why NRC ignored to do any interviews with me for the 40 job applications that I applied at NRC. NRC does not want people like me or Dr. Ross Landsman, because we have a high personal integrity and will not hide their crimes to just keep our jobs. People like me are sacrificed like lamb by these criminals (according to 10CFR50.7, 110,111, etc. whoever falsify or ignore and make changes to the nuclear documents to hide safety issues should be criminally prosecuted).

Unfortunately, I don't have any power to criminally prosecute these ignorant government agencies, but based on the written laws, I can call them criminals.

Please distribute to your NRC staff to read and educate themselves where they work and for whom.

With full disrespect for the NRC and OIG staff,
Oscar Shirani, Nuclear Whistle Blower who always made a shame of the NRC's audit reports in his audits. When I performed the audit of GE and shut them down with a Stop Work Order, it was three months after NRC had fully blessed GE.

When I shut down Holtec International with the cask problems, it was six months after NRC had fully endorsed dry casks storage. I embarrassed NRC and its non-sense audits and that's why I was gone from Exelon with the bless of NRC.

I will hunt you and embarrass you until your management change and develop respect for public safety and implement what you claimed that "NRC will protect the people who bring the safety concerns and will not allow any intimidation of people who raise safety concerns". These are novels and jokes that you write for public deception, but I will not let you continue to rub people in the name of safety.

Note: forwarded message attached.


Yahoo! Messenger with Voice. Make PC-to-Phone Calls to the US (and 30+ countries) for 2¢/min or less.
Received: from [62.160.21.50] by web38711.mail.mud.yahoo.com via HTTP; Thu, 04 May 2006 05:39:41 PDT
Date: Thu, 4 May 2006 05:39:41 -0700 (PDT)
From: Oscar Shirani <obshirani@yahoo.com>
Subject: Fwd: [NukeNet] FW: Chernobyl : Contains Graphic Pictures! Not For the Faint of Heart!
To: hjudd@acciongroup.com, ewade@aglresources.com, mkeefe@aglresources.com,
Historyart2004@aol.com, local855@aol.com, nbrockway@aol.com,
richard_rosen@aporter.com, lbewlu94@att.net,
boris.steffen@bateswhite.com, jb@bauer.us, ddoliver@bklawyers.com,
drbrice@bklawyers.com, alex.stern@bpu.state.nj.us,
alice.bator@bpu.state.nj.us, arthur.gallin@bpu.state.nj.us,
bill.stark@bpu.state.nj.us, carl.dzierzawiec@bpu.state.nj.us,
christine.lin@bpu.state.nj.us, damase.hebert@bpu.state.nj.us,
david.mcmillan@bpu.state.nj.us, david.robinson@bpu.state.nj.us,
dean.taklif@bpu.state.nj.us, dennis.moran@bpu.state.nj.us,
doyal.siddell@bpu.state.nj.us, ed.lihan@bpu.state.nj.us,
eleana.lihan@bpu.state.nj.us, eric.hartsfield@bpu.state.nj.us,
frank.perrotti@bpu.state.nj.us, george.riepe@bpu.state.nj.us,
jackie.galka@bpu.state.nj.us, jackie.ogrady@bpu.state.nj.us,
james.giuliano@bpu.state.nj.us, jane.kunka@bpu.state.nj.us,
joanne.murad@bpu.state.nj.us, john.caleca@bpu.state.nj.us,
john.garvey@bpu.state.nj.us
MIME-Version: 1.0
Content-Type: multipart/mixed; boundary="0-1505507721-1146746381=:47648"
Content-Transfer-Encoding: 8bit
Content-Length: 3894

Hello Our Government officials of New Jersey:
These pictures from Chernobyl show you the price of public deception by the nuclear mafia, Exelon and the sleepy regulators, NRC and DOL who don't have any respect for public safety.

Let's hope Exelon and other nuclear utilities who are in bed with NRC and DOL don't do this to us. See and judge for your self. We have 103 nuclear reactors and the produced nuclear waste buried in the dry cask storage at each nuclear site is 1000 more dangerous than the Hiroshima bomb.

And adding to that is the falsified dry cask storage containers cited by my August 4, 2000 audit reports and other 1999 and 2000 nuclear audit reports that I generated. These dry cask storage containers (garbage cans) are located outside in the yard of the nuclear reactors like Dresden nuclear plants and waiting to be transferred to the yucca mountain underneath the poor American Indian lands that we gave them by taking the best parts of the lands from them and just sending them our worst nuclear wastes. These dry cask storage containers are susceptible to the terrorist attacks and airplane crashes. But, Exelon is worse than the 911 terrorists by falsifying the nuclear audit reports to hide their design issues for sake of production.
If 911 terrorists destroyed the lives of few thousands (god blessed them all), but Exelon falsification and NRC's negligence is endangering the lives of millions of people around this nation.

These are the problems that I found with the GE Nuclear Energy (GENE) Boiling Water Reactors (BWRs) and shut them down, but ComEd/Exelon by-passed all my findings and despite all the warnings, did business as usual with GENE. Then Exelon falsified my nuclear audit reports of dry cask storage in 2000. I had given all these information with documents to NRC, but they also wanted to protect this old infrastructure nuclear plants to save their own interest and jobs.

These pictures should show you what is the consequence of cheating and deceiving the public by the nuclear mafia who are in bed with NRC and Department of Labor who refuse to protect the whistle blowers.

Let's wake up and do something to the cheaters in nuclear industry and stop them from repeating these disasters. These pictures give me more encouragement and energy to wake you up to have the NRC and DOL renewed and get them out of the bed with the utilities like Exelon who destroyed all safety advocates who brought up safety concerns to protect public.

NRC and DOL betrayed me and sided with the nuclear mafia, Exelon.

We need some conscientious government senators, representatives, and congressmen to take my nuclear safety concerns to the congressional hearing that I could prove how NRC deceived the public and hid all the Exelon's falsification of my nuclear audit reports which revealed the danger of the nuclear power plants components, structures, and systems powered by another 20% power uprate to further exacerbate public safety.

Oscar Shirani, nuclear industry whistle blower.


Note: forwarded message attached.


Get amazing travel prices for air and hotel in one click on Yahoo! FareChase
X-Apparently-To: obshirani@yahoo.com via 209.191.125.84; Wed, 03 May 2006 20:25:26 -0700
X-Originating-IP: [68.230.241.34]
Authentication-Results: mta354.mail.scd.yahoo.com
from=cox.net; domainkeys=neutral (no sig)
Received: from 68.230.241.34 (EHLO fed1rmmtao05.cox.net) (68.230.241.34)
by mta354.mail.scd.yahoo.com with SMTP; Wed, 03 May 2006 20:25:26 -0700
Received: from your03667082de ([68.231.87.227]) by fed1rmmtao05.cox.net
(InterMail vM.6.01.06.01 201-2131-130-101-20060113) with SMTP
id <20060504032330.RHQS25666.fed1rmmtao05.cox.net@your03667082de>
for <obshirani@yahoo.com>; Wed, 3 May 2006 23:23:30 -0400
From: "The Roy Process" <theroyprocess@cox.net>
To: <obshirani@yahoo.com>
Subject: [NukeNet] FW: Chernobyl : Contains Graphic Pictures! Not For the Faint of Heart!
Date: Wed, 3 May 2006 20:23:28 -0700
MIME-Version: 1.0
Content-Type: multipart/alternative;
boundary="----=_NextPart_000_0040_01C66EEF.706341B0"
X-Priority: 3
X-MSMail-Priority: Normal
X-Mailer: Microsoft Outlook Express 6.00.2900.2869
X-MimeOLE: Produced By Microsoft MimeOLE V6.00.2900.2869
Content-Length: 1329

NukeNet Anti-Nuclear Network (nukenet@energyjustice.net)
WARNING! Contains Graphic Pictures! Not For the Faint of Heart!


---
The church bells in the Ukraine are ringing in remembrance of Chernobyl. I am trying to buy the award winning documentary "Chernobyl Heart" Why is it so hard to find ?

However, these pictures is all one needs to see. I ask you to PLEASE take the time..... and weep.



Every member of Congress should watch the following film before authorizing another nuclear power plant.



http://todayspictures.slate.com/inmotion/essay%5Fchernobyl/?GT1=8019

click play after the first few pictures.



---

_______________________________________________________________________

Subscribe/Unsubscribe Here: http://www.energyjustice.net/nukenet/

Change your settings or access the archives at:


NRC_Holtec_1 landsman letter-1.jpg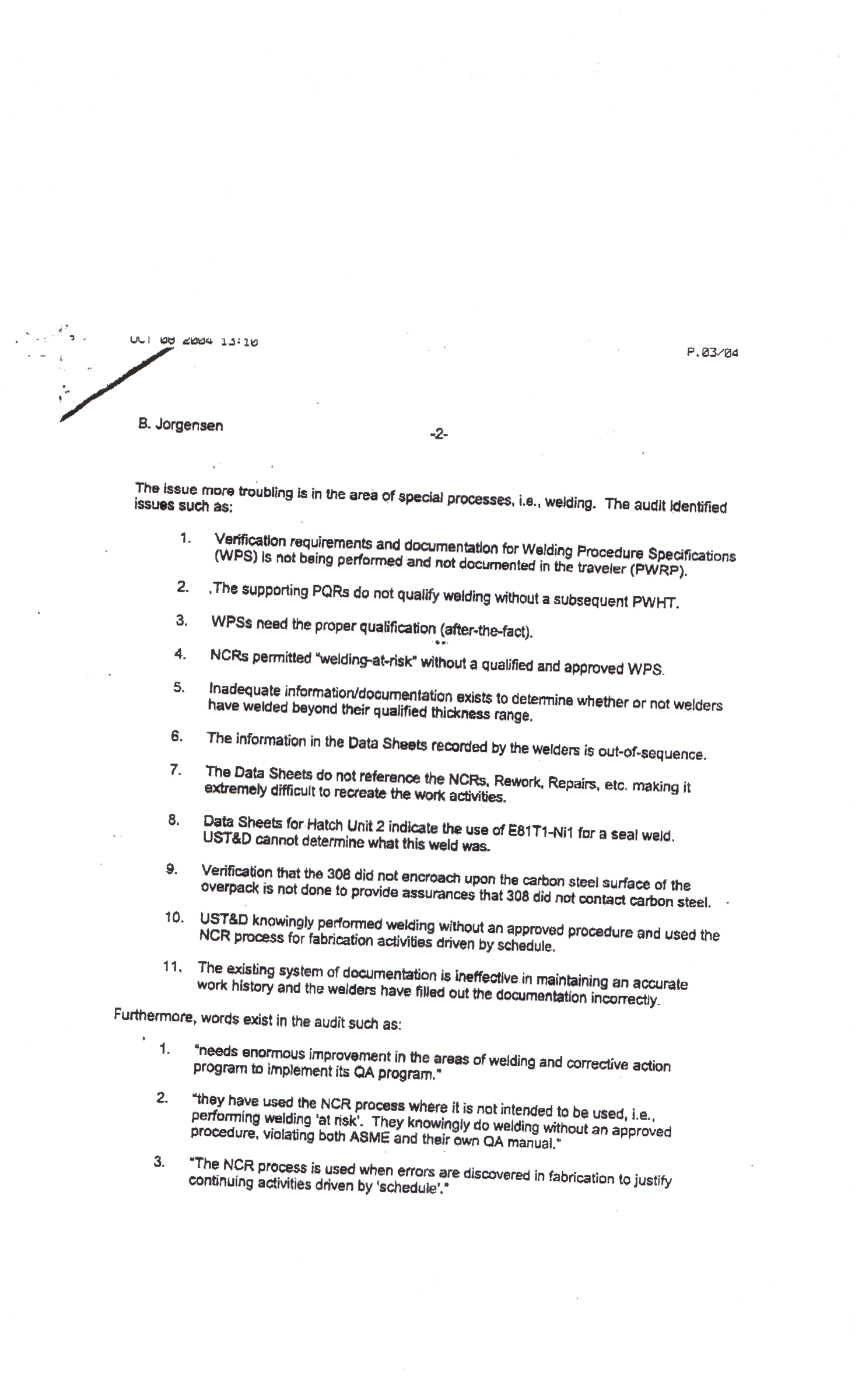 NRC_Holtec_2 landsman letter-2.jpg

NRC_Holtec_3 landsman letter-3.jpg