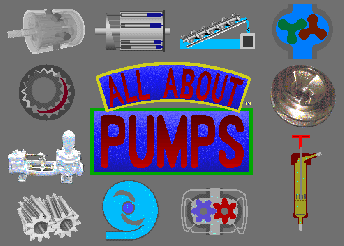 All About Pumps is an introduction to these marvelous and important machines!
Learn about the latest energy-efficient inventions!
Over 70 pumps are animated and explained!
Who needs to know about pumps? Everyone!
Mechanical pumps are the second most common machine in the world (after electric motors).
Most people are unfamiliar with how the many different kinds of pumps work!
A car typically has half a dozen or more different kinds of pumps in it.
Household pumps make life easier -- know the different types of pumps that are available.
Industry couldn't get anything done without pumps to move chemicals, coolants, waste, etc.
Municipalities are responsible for hundreds or even thousands of pumps, utilizing many different types.
Includes historical background and real-world examples of pumps in action.
Includes our Glossary of Pumps.
This program will both delight and educate you and your family.
If you are already in the pump industry, it's a great way to quickly give people outside the industry important facts about pumps.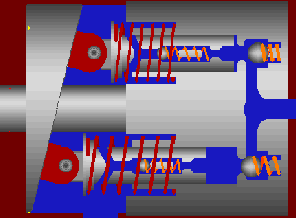 All About Pumps is a great tool for training new staff!
Waste Water Treatment Plants
Chemical Plants
Oil Industry
Food Industry
Pump Distributors
Public Utilities
Fire Fighters
Plumbing Companies
Irrigation Firms
Aerospace, Aviation and Transportation Industries
Pump Industry Trainers
Users love it! Read some early reviews about this remarkable program, which has been upgraded and enhanced many times:
Berkeley PC User Group:
"Hoffman obviously loves his subject" ... "pure and good education" ... "ran easily from the CD in Win95..." (September, 1998) Full Text.

DOS World:

"For anyone fascinated with how gadgets and things mechanical work...As a multimedia tool, All About Pumps goes all-out with colorful animation techniques, combining Disney-like frame-to-frame hand drawing with advanced assembly-language playback...You won't need documentation; you can easily find your way around." (May, 1996)

Pumps & Systems Magazine:

"An excellent introductory experience for people new to the pump business--who would benefit from a basic knowledge of how pumps work...Even though I have been associated with the pump industry since 1955, I found the glossary of pumps in this computer program quite useful." (March, 1996)

Lonnie Brown, The Ledger (Lakeland, FL):

"Students writing papers or beginning engineers who need to know these things will find the 100 or so full-color, detailed animations helpful in gaining an understanding of how pumps work. Russell D. Hoffman, who wrote the program, used the high-resolution mode on the computer, which allows for smooth, detailed animation." (January 28th, 1996)

HOMEPC:

"All About Pumps offers charming animation and meticulous detail about more than 50 types of [pumps] in residential, agricultural, scientific and medical uses...If you have a hankering for hydraulics, get pumped-this one's for you." (July, 1995)

Nuts & Volts:

"I haven't counted the total number of screens, but there seem to be about 200! They are all colorful, easy to read, and those with animation operate quickly and smoothly... I wish more programs were this easy to use! When was the last time you used a program where only two help screens tell you ALL you need to know to use the program effectively, where only two keys are used for navigation, where no typed commands are required-and where you can learn so much about a useful topic with so little effort?" (June, 1995) Full Text.

Canadian Water Well:

"Once the program is running, your eyes are in for a feast. All About Pumps allows users to control the operating speeds of the animations. This is especially convenient for observing how valves and other internal components work together to control the flow of water.... It combines exceptional animation with education to produce a worthwhile addition to existing pump-related sources." (June, 1995)

InTech:

"Hoffman's easy-to-use program keeps the "reader's" interest with high-resolution images of working pumps and text suited to the size of a computer screen." (March, 1995)
The most complete collection of pumps ever assembled!

Clear easy-to-understand descriptions and more than 100 animations showing the pumps at work!

Great beginner's guide to pump technology and the fascinating world of pumps!

A renowned classic animated educational tutorial since its introduction in 1995!
Our software
is hand-crafted
in the U.S.A.